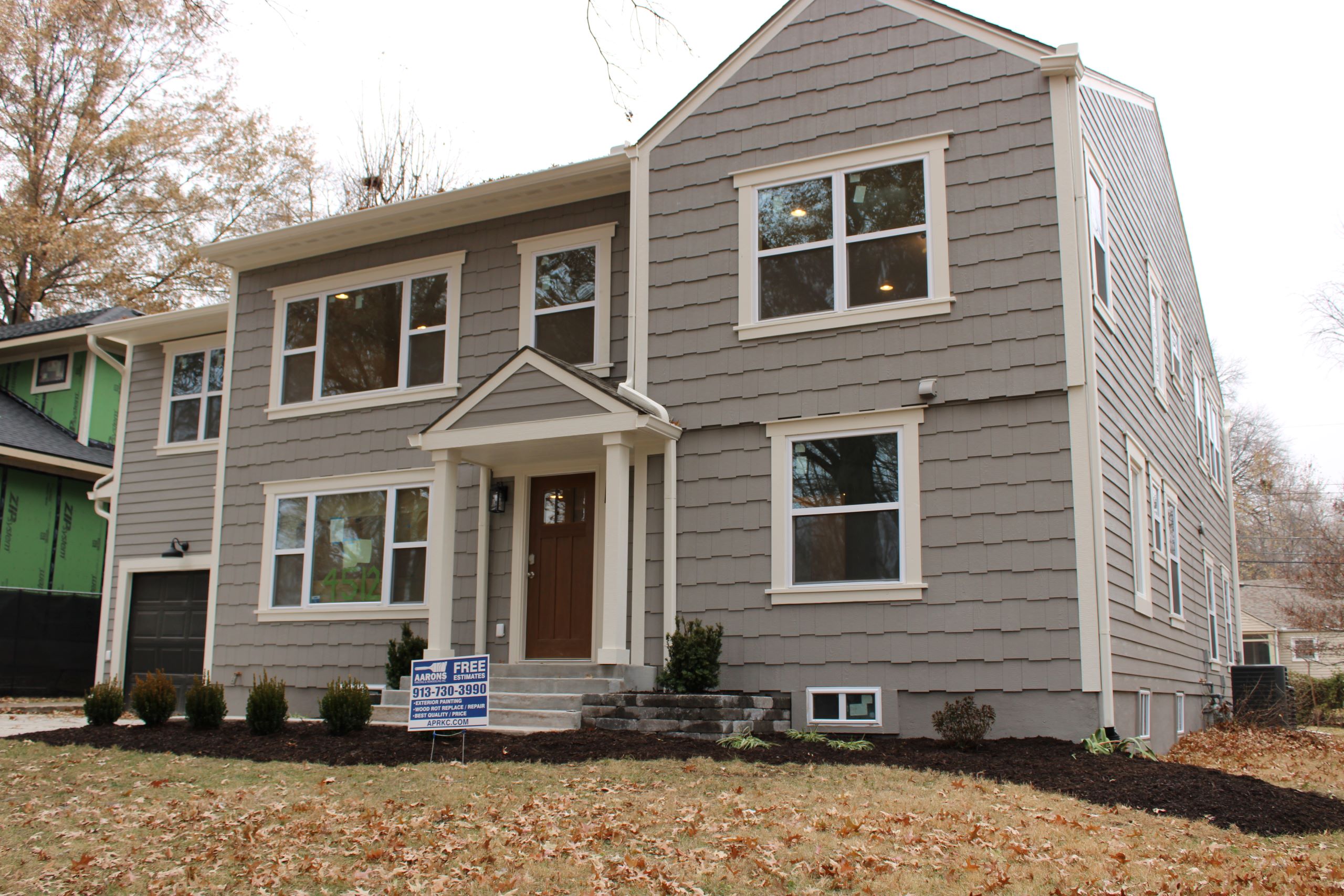 Your Local Exterior Painters
The APRKC team consists of experienced Exterior Painters that can provide you with the highest quality exterior painting  throughout Johnson County and the KC Metro area including Overland Park, Prairie Village, Lenexa, and KCMO. 
Aaron's Painting and Remodeling been in business for over 2 decades and has lived up to the quality of work that is expected on each exterior painting project.  Additionally Aaron's painting only uses the best paint and sundries; Sherwin Williams.
Our Process
Most exterior painting

projects start with a good pressure washing. Pressure washing cleans the surface so that the new paint adheres properly.

Above all else, proper prepping of the surface is key to a great paint job and a point often overlooked. Pro Tip: A key aspect to exterior paint longevity requires scraping of loose old paint from the surface. This allows the new paint to stick to a solid surface.
All gaps cracks and nail holes will be caulked with premium caulking to ensure a water tight seal. Primer is applied on bare wood as needed. 
The finish coat is where the color and the fresh new look of your home comes to life! You want a good paint job, therefore we use Sherwin Williams premium paints and sundries. Sherwin Williams paint is without a doubt the best paint. It's best to use the proper mil thickness coat in light of paint manufactory specs to emphasize the importance of a good coat of paint. 
Paint the Exterior of your Home
There are many beneficial reasons to paint the outside of your home. Not only does it increase your home value, but it also protects your home from weather damage, insects, and additional wood rot. In short make sure you choose the right exterior painters throughout the KC Metro area including Johnson County, Overland Park, Prairie Village, Lenexa. 
Wood Rot: Repair or Replace
Many houses in Overland Park and throughout the Kansas City area have wood rot. We can help!
With the different weather conditions in Overland Park and Kansas City its not ideal for wood that is not protected. From a small board that needs replaced or repaired to a full house siding project. APRKC Exterior Painters do it all. Send us pictures of your wood rot and get a quick estimate today. 
Why does wood rot happen and how do I get it to stop?
Wood rot happens because of several different reasons:
Parts of the wood board or siding on your house may not be protected.
Gutters over flowing is a point often overlooked. Undersized or clogged.
Water is getting into area's it is not suppose to be.
Weather is a huge factor when it comes to wood rot. See our blog on how to protect your home from weather.
To stop wood rot:
You may have to replace the board(s) that are bad.
Gutter Cleaning or reconfiguration may be necessary.
Cut-out bad part of board and install with new board.
Make sure your house is well painted and waterproof. Need help? Contact Aaron's Painting and Remodeling Today!
Exterior Painters Services / Pricing and Timeline
All Projects are priced by the time and materials it takes to do the project. In the event that we find unknown wood rot we charge only for what it takes to replace the piece. We do not over charge! A typical exterior painters job takes a week or so. Start to finish. Timeline can change depending on detail on house, size of home or how much wood rot is on the home.  
Contact us to get started on your exterior painting project today!!